So you've decided to host an ugly sweater party.  Why not?  Everyone is doing it!  A great excuse to bust out those fun holiday sweaters and have a kitsch-filled get-together.
Some neat products we have in our store or have found via Amazon.com that can kick your party up to the next level: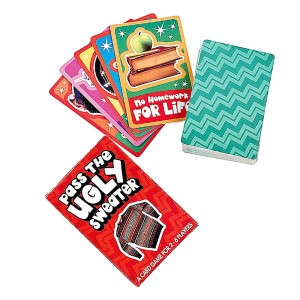 Pass The Ugly Sweater Card Game
Basically Old Maid, but updated for the 2000s, replacing the non-PC spinster with a hideous holiday sweater.
Christmas Carol Mad Libs: Very Merry Songs & Stories
Remember Mad Libs? The game where you fill in the blanks with random nouns, verbs and adjectives and end up with a hilarious story? As kids, we used to laugh hysterically at what we would come up with. As adults, "dirty" Mad Libs are even more fun!
In The Mix Cookie Kit, Ugly Sweater, 11.5 Ounce
Make some ugly sweater cookies for your guests, or better yet, make just the cookies ahead of time and turn your ugly sweater party into an ugly sweater cookie decorating party!
Wilton 2105-0062 Christmas Ugly Sweater Non-Stick Cake Pan
Rather than cookies, how about an ugly Christmas sweater cake?
Piece of Cake Parties Christmas Cupcake Toppers, Ugly Holiday Sweater Collection, Set of 12
…or some ugly Christmas sweater cupcakes?
Ugly Sweater Beer Koozie
Keep your beverage as frosty as a snowman with a genuine knit ugly sweater beer koozie!
Ugly Christmas Sweater Party Invitations & Decorations + Cast your Vote cards
Giving out an award for the ugliest sweater at your party? We found coordinating invites and voting ballots.
Gold Nutcracker Ugliest Sweater Award Trophy
Honor the winner of the ugliest Christmas sweater with this "major award"!
Christmas Party – Piece Photo Booth Props Kit – 20 Count
A photo booth is always fun, for any event. Christmas props + ugly sweaters = even more fun!
Don't forget a fun backdrop for your photos! Amazon has some, or you can DIY with crepe paper streamers or Christmas lights.

Santa's Naughty List Mug Shots – Christmas Party Photo Booth Props Kit – 20 Count
Naughty or Nice mug shot signs; which list are YOU on this year?