What is an Ugly Sweater Party?
An ugly sweater party is any group or gathering of people decked out in their blingiest, bedazzliest, gaudiest, grandma-iest sweater, celebrating the awesome kitsch power of the ugly sweater.
How do I host an Ugly Sweater Party?
There are SO many pages on Google devoted to this that we won't get into it here. Suffice to say Step One is get yourself the ugliest, tackiest, blingiest, nerdiest, most ironic ever sweater (and point your friends here to get theirs if they don't have a grandmother to hook them up).
After that, make it YOUR party and do what YOU want. Ugly sweater contest? Jello shots? Christmas caroling of unsuspecting neighbors? Pub crawl? Bad dancing? "As Seen On TV" white elephant gift exchange? It's your call.
I'm a guy and I need an ugly Christmas sweater for a party — HELP!
When it comes to attending ugly Christmas sweater parties, we recommend men do not limit themselves to men's sweaters. They are most fun when in a blingy bedazzled women's sweater (and add lights!). Generally you should choose from sweaters a size larger than you would wear in men's sizing, but check the chest and length measurements to ensure it will fit (snug is best!). Sleeves may be a bit short on your long manly arms, so if that is a problem, consider a vest instead!
How will I know if a sweater will fit me?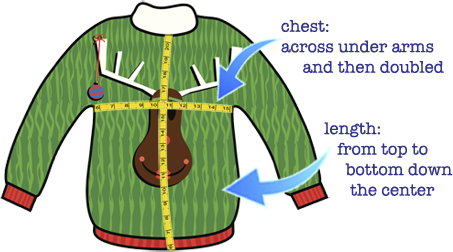 Many of these sweaters are vintage, and sizing can vary. A size Large in one sweater might fit more like a size Medium in another.
You can measure yourself, but really the best way to ensure something will fit you is to take a sweater you already own that fits you well, and measure that instead.
The chest is measured from underarm seam to underarm seam, then that number is doubled.
The overall length is measured from the collar to the bottom of the sweater, down the back.
Then compare those measurements to the sweater you are looking at.
Sweater arrived and it is too small? Unless it says "dry clean only", most sweaters are either hand- or machine-washable. After washing the sweater, don't dry it in the dryer! Instead, while it is damp, "block" it to a slightly larger size, by gently stretching it out across the chest, across the shoulders, and the sleeves (hold at the shoulder and sleeve edge and pull gently). Then lay it flay to dry. This can buy you an extra couple of inches in any or all of those areas.
Gross! These sweaters aren't new, are they?
The sweaters that are marked NEW on the image are brand new.
The rest come from a fine selection of vintage and thrift stores. Due to their ugliness, there is a very good chance that many of these never actually have been worn, but we just don't know, do we?
That is why we inspect each sweater for flaws, mend what we can and and carefully describe any we can't, clean them according to manufacturing specifications, and guarantee them to be cootie-free when shipped to you.
Hey I was here last week / last month / last Christmas and you had a ton of pre-owned and vintage sweaters.  Where did they all go?
Those sweaters are the best, aren't they? And they sell VERY fast.  Often within minutes of being listed online.
The good news is we have a constant influx of those sweaters and we keep adding them to the website–so what you saw on Monday will be different than what you see on Wednesday.  Keep checking back–you never know what you will find!
Can I return my sweater to you after my party is over?
Sorry–all sales are final! The ugliness is yours to keep forever, or until you regift it like Aunt Sally's fruitcake.
How do I make a Christmas sweater light up?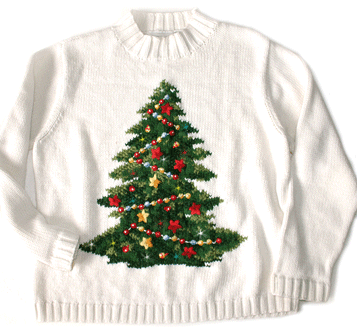 Push lights through the knit from the inside to out where you want them placed (this may be more difficult for tight knit and acrylic sweaters, works best with chunky knit sweaters).
(Optional) Stitch the lights in place with a needle and thread by looping the thread through the sweater then around the cord between lights, then tie tightly. Repeat between each light.
Create a "pocket" for your battery pack: Use a small piece of fabric (some people even use the toe cut off from an old sock) big enough to hold the battery pack and stitch or safety pin it to the inside of the sweater near where the lights are placed. Make sure there is room in the cord for movement when the sweater is worn.
After you've attended your party, don't forget to take the lights out before you wash your sweater!
Pro Tip: Be sure to use fresh AA batteries, and not rechargeables.

Some color lights do not work with stale or rechargeable batteries.
I want to buy a sweater, but shipping is so expensive!
Sweaters are moderately heavy (usually around 2 pounds each) and our Standard and Express shipping costs are based on United States Postal Service shipping.  FedEx 2-day shipping is available upon request–contact us directly for a quote.  They are often cheaper than Express shipping.  And during the holiday season, we offer local delivery in the Dallas/Fort Worth metro area (see below).  Even on Christmas Day!
My party is the day after tomorrow, what do I do?
If you choose the Express shipping option and make your purchase before noon Central Time, you will have your item delivered to you by noon the next day in many larger US cities, and 2 days elsewhere in the US.
If you are outside the US, you can choose International Express, but it may be a few days longer (customs is usually the place it gets held up). Feel free to check www.usps.gov to see what the delivery time is to your country to ensure you will get it in time.
NEW FOR CHRISTMAS SEASON 2016: If you are in the Dallas/Fort Worth metro area (one of these zip codes) we will deliver your items to you within 24 hours–even on Christmas Day!  Just choose the local delivery option ($25 fee).  We will contact you to schedule a delivery time when someone can sign for the package.  We may even be able to accommodate same-day delivery, just ask!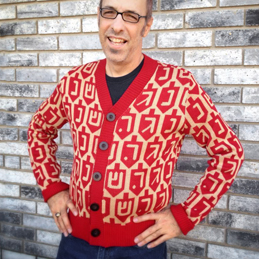 Do you have any Hanukkah/Chanukah sweaters?
From time to time we spot the elusive Hanukkah sweater in the wild.  See if we have any right now.
Do you have a physical location where I can shop in person?
We sell 99% of our sweaters online, but sometimes we are invited to sell our sweaters at various pop up markets in the Dallas area. Feel free to email us to find out where we will be next!
Help, I have a question not answered here!
Please feel free to contact us directly with any questions you have.