Recent feedback from our buyers:
– Wow!!!  Best service I've ever had through internet shopping!!!  You have brought efficiency to a new level! Virtual High Five to YOU!!!!
– Everyone loves the sweaters and I will definitely order more for next year. Thanks.
– Absolutely fantastic personal attention and product
– Very fast delivery, and sweater was just like new!
– Wow, I got my ugly sweater in three days and it is beautiful. Thank you for great service.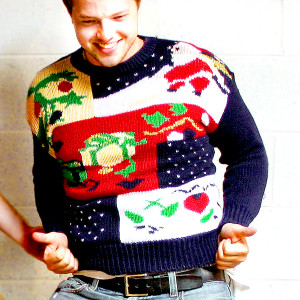 – After my first order I was favorably impressed, this order confirmed this is a great company!
– Received VERY fast and sweater even uglier than I hoped! VERY, VERY happy!
– Absolutely fantastic. Great products, amazing customer service. Very easy to deal with. Thanks
– beautiful sweater! getting rave reviews!
– The lady who answered my call was very nice and professional. She assisted me with my order.
– This is the third sweater I've purchased from the UglySweaterShop. Their sweaters are so dank.
– Beautiful lights- my sweater is so much prettier now! Shipped quickly!
– Extremely fast shipping. Couldn't ask for a smoother transaction. Already put in another order.
– The sweater surpassed my wildest dreams.
– It got exactly where I wanted it to on time and the sweater was AWESOME! Would totally recommend!
– Arrived quickly, as described, and definitely fugly!
– Fast shipping and great product! Very fun!!
– We ordered two sweaters, they were both fabulous – just like their photos and in great shape.
– Fast shipping! Thrilled w/ item! (Had searched many sites w/ no luck b4 ya'll. MANY THANKS SO MUCH!!
– Fabulous (not fugly!) sweater, tacky-kitschy-cute. arrived on time, in the condition described.
– Ugliest sweater I have ever seen. I won the contest!
– Got exactly what was pictured. Love my ugly xmas sweaters!