The Ugly Sweater Shop:
Your source for sweaters that are tacky, blingy, and just plain ugly.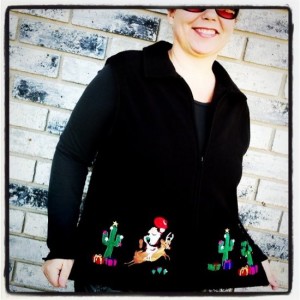 Thank you for visiting The Ugly Sweater Shop.  We are a small 2-person team that "rehomes" ugly or unique vintage and contemporary sweaters.
Not only do we have the ever-popular ugly Christmas sweaters, but also sweaters for other holidays such as Valentines Day, Easter, Fourth of July, Halloween and Thanksgiving. You'll also find Cosby sweaters, vintage sweaters, gem sweaters, golf sweaters, and even crazy cat lady sweaters.
Most of our sweaters were acquired just before being "ragged out"–that is, they were going to be destroyed or sent to a landfill. We recognized their unique, original kitsch appeal, so we rescued them and put them into "sweater rehab", where we carefully launder them and repair any damage, so they can be enjoyed by a new owner.
Every sweater you get is clean and ready to wear, right out of the package!
Many of these sweaters are 10-30 years old, so when you buy one, you may be the only person who has one like it.  If you are looking for something unique, we offer an interesting selection.  And remember, once they are gone, they are gone!
Although we are small, we save on average 5,000 pounds of textiles from landfills each year.  AND we make thousands of people happy with their purchases in the process.  Just doing our part to make the world a better place, one ugly sweater at a time, since 2009.
Thanks for shopping with us!
Stacy Anderson
Owner
TheUglySweaterShop.com