Ugly Christmas Sweaters for Big & Tall Men

(above images courtesy of etiquette-tips.com, guidespot.com, ebay.com and rockyouruglychristmassweater.com)
Are you a bigger guy looking for an ugly Christmas sweater?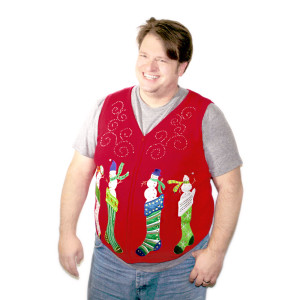 Vests leave lots of room for your big manly shoulders and long arms.  A button up or zip front vest can be worn open if it is too snug.  And you can pair it up with a crazy turtleneck or if you don't want to get too warm, a totally clashing t-shirt!
To find the perfect size, measure a shirt or sweater that fits you well, and then compare it to the measurements in the item description.  We measure across the chest from underarm seam to underarm seam, then double that number.  (If there are a range of numbers listed, that means the item is stretchy!) Length is measured down the middle of the back.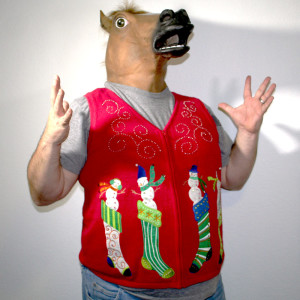 Body measurements are different than clothing measurements, so if you know your own body measurements and prefer to compare via that route, be sure to add a few inches to be comfortable.
No time to measure?  A good rule of thumb is a woman's size is roughly one less than a man's size.  A Woman's Large might fit a man who wears a Medium, and a Woman's 4X might fit a man who wears 3XL.
Vests are usually even more generously cut, and as you get into the plus sizes (1X, 2X, 3X) you might find the sizes to correspond almost equally with men's sizing.
Click here to shop our women's plus size section and find the perfect vest for you!
Option 2: Make your own ugly Christmas sweater!
One of the benefits of the recent popularity in ugly Christmas sweaters are the do-it-yourself (or DIY) ugly sweater kits popping up. The beauty of these kits is: even though it comes with a plain sweater to work on, you can use ANY sweater you already have and make it an ugly Christmas sweater.
Or if you are really creative, how about skipping the kit and crafting it up on your own? Here are some ideas:
How A Guy Makes A Christmas Sweater (this guy is making a "jingle balls" sweater)
More crafty DIY Christmas sweater ideas, including a use for some Christmas ties (courtesy of The Today Show and Pinterest)
26 more good (and not so good) DIY ugly Christmas sweater inspirations
If you get crafty and make your own sweater, share it with us on our Facebook page!