Save The Neck For Me, Clark! Christmas Vacation Ugly Turkey Sweater
Say the blessing and cue the music because the most overcooked turkey of the season has been served up on this 'National Lampoon's Christmas Vacation' holiday sweater. The turkey may be a little dry, but that won't stop it from stealing the show wherever you go!
Perfect for both Thanksgiving and Christmas, the ugly holiday sweater can be worn all throughout the season!
Made with ultra-soft 85% acrylic 15% wool yarn
Our Christmas sweaters are HIGH-QUALITY and will last for years – we don't make costume-grade holiday sweaters.
All sweaters are brand-new and shipped within a protective Festified polybag.
---
A Note on Sizing
Sizing can vary from sweater to sweater, so don't go by the tag size alone when choosing your ugly sweater.
The best way to ensure something will fit you is to take a sweater you already own that fits you well, and measure it.
-The chest is measured from underarm seam to underarm seam, then that number is doubled.
-The overall length is measured from the collar to the bottom of the sweater, down the back.
Compare those measurements to the ugly sweater you are considering to ensure the perfect fit. A range of numbers in the chest measurement means the sweater has some stretch to it.
Remember, all sales are final, so please double-check for fit before making your ugly sweater selection!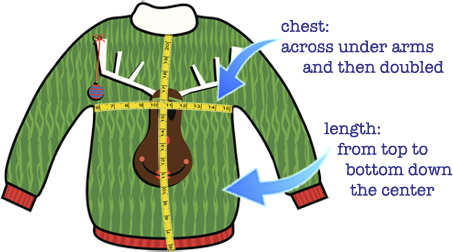 ---