Light Up Your Ugly Christmas Sweater with Battery Operated LED Light Kit (Cool White)
(Sweater not included–add this kit to a sweater from us, or to one you already have!)
Any chunky knit sweater can be made to light up in the dark with this 15-light LED Christmas light kit.
Runs on 2 AA batteries (not included).
NOTE: Be sure to use new batteries, and not rechargeable ones. Some of the colors will not light up with older or rechargeable batteries.
Product details:
Color: Cool White
String Color: Green
15 LED bulbs per string
Burns for up to 20 hours on 2 AA Batteries
Battery pack is smallest/lightest available for AA batteries.
– Some light kits use watch batteries but they are expensive to replace.
– Other kits use D size batteries–imagine lugging those around!
Each kit comes with 17 safety pins for easy fastening and removal for washing your sweater.
(Sweater not included–add this kit to a sweater from us, or to one you already have!)
In stock
---
Description
Instructions:
Turn your sweater inside out.
Decide where you are going to put your battery pack. You can opt to pop it in your jeans pocket, or you can cut out the toe of a sock and pin the pack to the inside of the sweater (we've included 2 extra safety pins for this purpose).
Starting from the battery pack and working your way through the string of lights, place the lights where you want them to appear by pushing them through the knit. (Difficult for tightly knit and acrylic sweaters, works best with chunky knit sweaters.)
Secure each light with a safety pin so it doesn't slide around.
Turn your sweater right side out.
Flip the switch on the battery pack (either steady on mode, or flashing), and enjoy!
---
A Note on Sizing
Sizing can vary from sweater to sweater, so don't go by the tag size alone when choosing your ugly sweater.
The best way to ensure something will fit you is to take a sweater you already own that fits you well, and measure it.
-The chest is measured from underarm seam to underarm seam, then that number is doubled.
-The overall length is measured from the collar to the bottom of the sweater, down the back.
Compare those measurements to the ugly sweater you are considering to ensure the perfect fit. A range of numbers in the chest measurement means the sweater has some stretch to it.
Remember, all sales are final, so please double-check for fit before making your ugly sweater selection!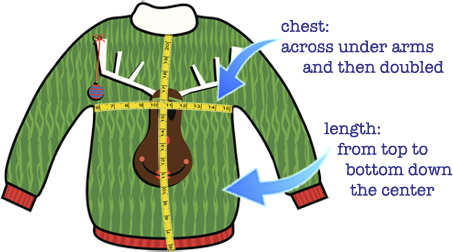 ---