Heartbroken DIY Scottie Dog Tacky Ugly Valentines Sweatshirt
"What's the matter, did your dog just die?"  Sort of looks like it if you are wearing this handmade ugly sweatshirt 🙁
Or perhaps it is in homage to the story of Grefriars Bobby?
A black Scottie dog sits in front of a broken heart embellished with lace and glitter, under the glitter word HEARTBROKEN.  Fabric heart appliques on one sleeve, and the collar and cuffs have been "ruffle-ified".  Plain back.
Comes with a coordinating horrible turtleneck.
(This is a previously owned item.  See below for condition and sizing info.)
---
Description
Condition: This ugly Valentines sweatshirt is in fair condition as it has quite a bit of washwear and the fleece inside has become lumpy.  The turtleneck is in very very bad condition with a lot of washwear to it and significant staining on the sleeves and lighter staining on the inside of the collar.  It is a mess.  We've marked down the price due to the condition.
Sweatshirt:
Tag Size:  Women's Large
Chest: 40 inches
Length: 23 inches down center of back
Brand:  Pannill
Color:  Gray
Material:  Polyester / cotton
Turtleneck:
Tag Size:  Women's Large
Chest: 42-48 inches
Length: 24 inches down center of back, excluding collar
Brand:  Nutcracker
Color:  White with black and red
Material:  Polyester / cotton
---
A Note on Sizing
Sizing can vary from sweater to sweater, so don't go by the tag size alone when choosing your ugly sweater.
The best way to ensure something will fit you is to take a sweater you already own that fits you well, and measure it.
-The chest is measured from underarm seam to underarm seam, then that number is doubled.
-The overall length is measured from the collar to the bottom of the sweater, down the back.
Compare those measurements to the ugly sweater you are considering to ensure the perfect fit. A range of numbers in the chest measurement means the sweater has some stretch to it.
Remember, all sales are final, so please double-check for fit before making your ugly sweater selection!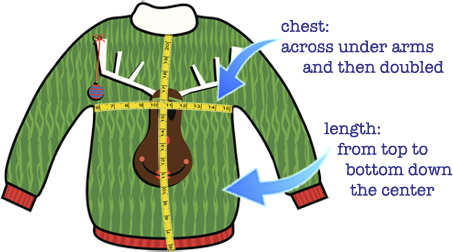 ---