"Dog's Summer Vacation" Tacky Short Sleeve Cardigan Ugly Sweater
This boxy-shaped ugly sweater is pretty self-explanatory:
A terrier is golfing, a hound has a little bird on his head. A schnauzer is at the beach with a floaty ring, a beagle is playing baseball. Other dogs are sipping fruity drinks, eating a watermelon, playing with a beach ball, wearing fruit on their head, or a beanie (while eating hot dogs), or scuba diving. On the back, a Boston Terrier watches fireworks while carrying an American flag. Underneath it reads "Dog's Summer Vacation".
(This is a previously owned item.  See below for condition and sizing info.)
---
Description
Condition:  Good pre-owned condition with some washwear evident on some of the felt appliques but no other flaws. Two of the decorative buttons are a little loose (the real buttons on the inside work fine). Includes a spare decorative button and a spare real button.
Tag Size: Womens XL
Chest: 46-50 inches
Length: 23.5 inches down center of back
Brand: Marisa Christina
Color: Heathered blue with multi-colored embellishments
Material: Ramie/acrylic blend
---
A Note on Sizing
Sizing can vary from sweater to sweater, so don't go by the tag size alone when choosing your ugly sweater.
The best way to ensure something will fit you is to take a sweater you already own that fits you well, and measure it.
-The chest is measured from underarm seam to underarm seam, then that number is doubled.
-The overall length is measured from the collar to the bottom of the sweater, down the back.
Compare those measurements to the ugly sweater you are considering to ensure the perfect fit. A range of numbers in the chest measurement means the sweater has some stretch to it.
Remember, all sales are final, so please double-check for fit before making your ugly sweater selection!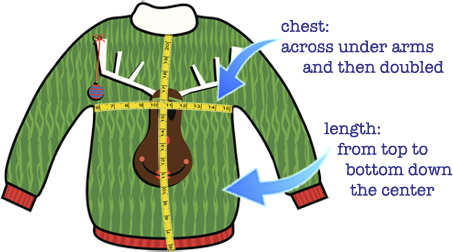 ---