---
Description
Condition:  Brand new.
Size:
Men's Small
Chest: 41 inches
Length: 25 inches down center of back
Men's Medium
Chest: 42 inches
Length: 25.5 inches down center of back
Men's Large
Chest: 44 inches
Length: 26 inches down center of back
Men's XL
Chest: 48 inches
Length: 27 inches down center of back
Men's XXL
Chest: 50 inches
Length: 28 inches down center of back
Brand: Blizzard Bay
Color: Light blue/teal
Material:  Cotton
---
A Note on Sizing
Sizing can vary from sweater to sweater, so don't go by the tag size alone when choosing your ugly sweater.
The best way to ensure something will fit you is to take a sweater you already own that fits you well, and measure it.
-The chest is measured from underarm seam to underarm seam, then that number is doubled.
-The overall length is measured from the collar to the bottom of the sweater, down the back.
Compare those measurements to the ugly sweater you are considering to ensure the perfect fit. A range of numbers in the chest measurement means the sweater has some stretch to it.
Remember, all sales are final, so please double-check for fit before making your ugly sweater selection!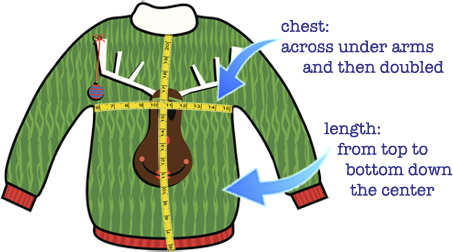 ---