Have a Beery Christmas Beer Pong Ugly Sweater Style Tacky Sweatshirt
Beer Pong: Everyone's new favorite Christmas drinking game!
Decorate your table with mini-Christmas lights. Use festive cups. New rule: anyone who misses a shot has to go outside and treat the neighborhood to the Christmas carol of their choice, belted at the top of their lungs. After all, "The best way to spread Christmas cheer is singing loud for all to hear!"
This beer pong ugly Christmas sweatshirt, or these t-shirts, are the perfect attire to try this out!
(This is a new item. See below for size info.)
---
Description
Condition: Brand new
Sizes:
Men's Small
Chest: 40 inches
Length: 25 inches down center of back
Men's Medium
Chest: 41 inches
Length: 25.5 inches down center of back
Men's Large
Chest: 45 inches
Length: 28.5 inches down center of back
Men's XL
Chest: 49 inches
Length: 29 inches down center of back
Men's XXL
Chest: 52 inches
Length: 30 inches down center of back
Brand: Nu Blend
Color: Black
Material: Cotton / Polyester
---
A Note on Sizing
Sizing can vary from sweater to sweater, so don't go by the tag size alone when choosing your ugly sweater.
The best way to ensure something will fit you is to take a sweater you already own that fits you well, and measure it.
-The chest is measured from underarm seam to underarm seam, then that number is doubled.
-The overall length is measured from the collar to the bottom of the sweater, down the back.
Compare those measurements to the ugly sweater you are considering to ensure the perfect fit. A range of numbers in the chest measurement means the sweater has some stretch to it.
Remember, all sales are final, so please double-check for fit before making your ugly sweater selection!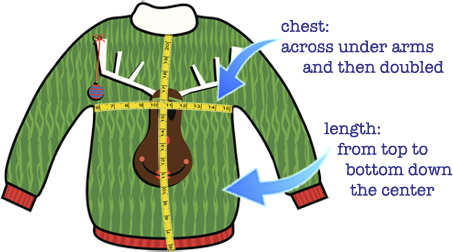 ---